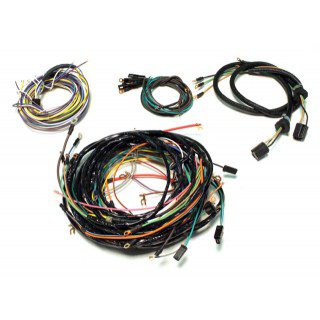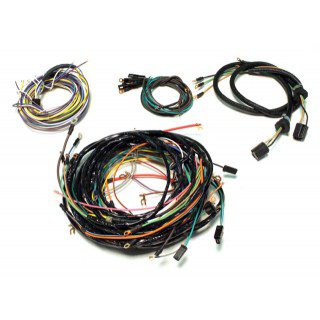 1947-1949 Wire Harness Kit-GM Truck
1947-1949 Wire Harness Kit - GM Truck Complete, Original Style -
Why You Need a New Wire Harness
It is really important to be sure your vehicle's wires are properly working. This includes being secure, connected and not worn through. When it comes to older vehicles, such as the late 1940s GM Trucks, it is more likely that your wires will need to be replaced. With time, wires can corrode and be worn down due to the exposure of the elements. Rodents and bugs can also get into your car or truck and chew into your wires causing them to be exposed or chewed through completely. When wires become worn, exposed or broken the risk of a short or an electrical fire is highly increased. You also want to be sure your vehicle is in proper working order. If a wire isn't functioning, it can cause other parts of your vehicle to not function as well. Parts of your 1947-1949 GM Truck that could be affected by poor wires are:
Lights
Meters
Engine
Radio
Wipers
And More!
When replacing wires within your vehicle, it is recommended to replace all wires at the same time to ensure all are up to date and in working order. You also won't have to guess which wires are in need of replacement. You could go through the process of replacing one wire just to find out another is needing to be replaced as well, starting the whole process over. With the use of a wire harness, this makes the replacement process a whole lot easier.
About the American Autowire Wire Harness Kit
It is highly recommended to purchase a new wire harness as opposed to individual wires. With a wire harness, all the wires are properly secured together in a neat and orderly fashion. The wires are labeled and color-coded helping you as the installer ensure they are correctly connected where they need to be. This allows for less installation time and less confusion. The wires are also bound together into a flame-retardant sleeve helping reduce the risk of electrical fires. American Autowire produces factory made wire harnesses with the use of OEM blueprints and GM parts. This tells you they are made specifically for your 1947-1949 GM Truck as an exact fit. Guesswork is taken out of the equation with a guaranteed fit. Everything is included with the full wire harness kit. With this wire harness kit, you can replace your entire GM Truck's wiring system from front to back ensuring you are all set and ready to cruise.
Playing with twisty puzzles is the best way of improving your dexterity and problem solving skills.
Why buy from Tuckers?
We have a knowledgeable support staff here to assist you in any way we can before, during, and after your purchase! We have decades of personal experience installing these products and we offer unlimited tech support for all verified purchases! When you call Tuckers, you'll talk to a fellow classic vehicle enthusiast, not just another order taker!