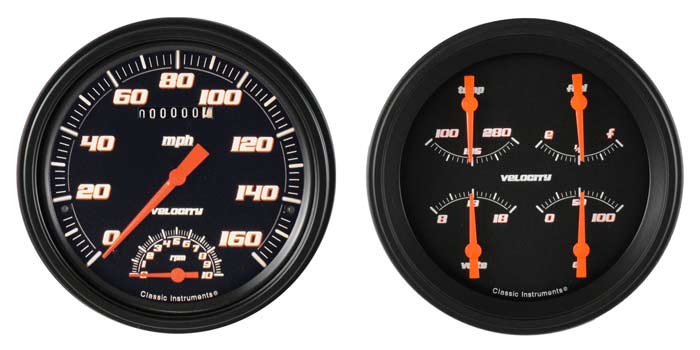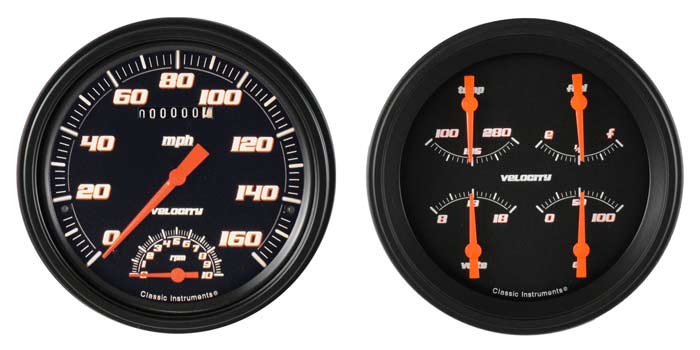 1947-1953 Velocity Series Black GM Pick-Up Package w/ Speedtachular
1947-53 GM Pick-Up Package Velocity Series Black
4 5/8" Speedtachular (Speedometer/ Tachometer Combination with built-in ECM filter signal switch) Quad (Fuel 240-33 OHM) with Stainless Low Step Bezel Flat Glass Lens. The package includes model-specific rings, mounting hardware, and all sending units.
A useful car part you need to have in working order is your instrument cluster. Depending on the style you purchase, it could come with a variety of trackers. The most common cluster includes a speedometer, tachometer, fuel, oil, temperature and volt gauges. Each of these is helpful in gauging the overall working and status of your classic car. The speedometer is obvious in it tells you the speed you are going. You don't want to get yourself a ticket when cruising your classic, so keep an eye on your speed with the speedometer. The tachometer shows you the rotation of the crankshaft. This helps aid the driver in determining what gear to be in for appropriate driving conditions. Your fuel gauge is also pretty straightforward, it simply tells you how much fuel you have. The temperature gauge lets you know how hot your vehicle is running. If it is running too hot it can signal you that something isn't working properly within the engine. The volt gauge lets you know how many volts are traveling between the alternator and the battery. Too much or too little can tell you something isn't working right. All of these gauges are important to have to make sure you're classic car is running properly and safely at all times. Having a working instrument cluster is a crucial classic car part you should have. Your classic car parts store has a variety of styles including different colors to best match your vehicle.
Although small, these instrument clusters are important and helpful in tracking the status of your vehicle. You want to be sure they are in working order at all times. This specific package fits 1947-1953 GM Truck models as the 4 ⅝" Black Velocity Series. This gauge comes with a speedtachular (speedometer and tachometer combination) with built-in ECM filter signal switch Quad (Fuel 240-33 OHM) with Stainless Low Step Bezel Flat Glass Lens. It includes model-specific rings, all necessary mounting hardware and all of the sending units.
Why buy from Tuckers?
We have a knowledgeable support staff here to assist you in any way we can before, during, and after your purchase! We have decades of personal experience installing these products and we offer unlimited tech support for all verified purchases! When you call Tuckers, you'll talk to a fellow classic vehicle enthusiast, not just another order taker!