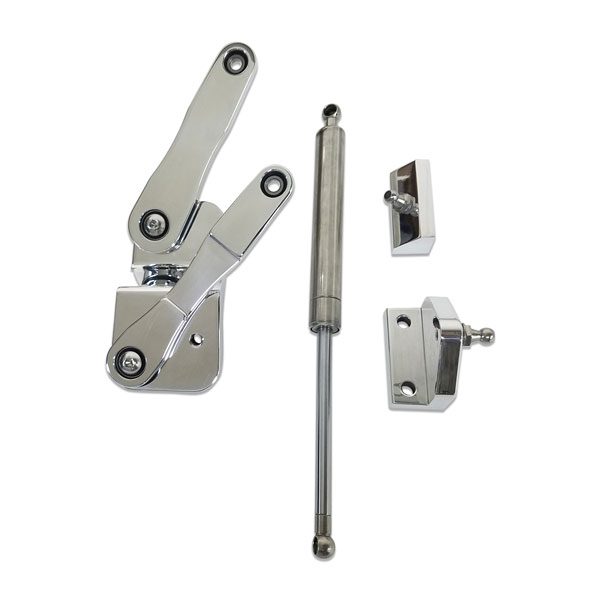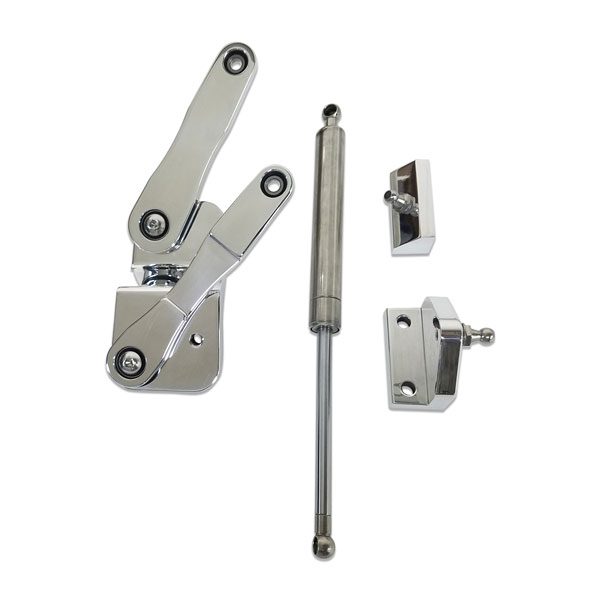 1947-1954 Chevy Truck Hood Hinges Billet Aluminum Clear Anodized
1947-1954 Chevy truck Hood Hinges Billet Aluminum Steel Hood Gas Struts Included Clear Anodized Finish
Why You Need to Replace Hood Hinges
Hood hinges can easily be forgotten and not paid attention to. They are one of the smaller, less obvious parts of your 1947-1954 Chevy Truck. The simple task of opening your hood can turn into a nightmare if your hood hinges are broken, rusted or misaligned. Hood hinges are designed to hold the full weight of the hood when open. They go through a lot of stress and wear and tear over time as the vehicle is driven. They also allow for the hood to be opened and closed with ease. Your 1947-1954 Chevy Truck hood hinge, if properly installed, should make it so your hood closes securely and tightly without any gaps and is level from side to side. Hood hinges not only hold your hood open properly, they also help keep the hood attached if the hood latch fails. If your hood hinges are not in top notch order, there is a possibility of your hood becoming unattached. Especially at high speeds, the likelihood of your Chevy Truck hood becoming unhinged and flying off or crashing into your windshield is quite high and very dangerous. Even if just one hood hinge becomes damaged or worn it can have serious consequences. With all of that being said, it's crucial you your Chevy Truck hood hinges are in good shape and installed appropriately.
Eddie Motorsports Billet Aluminum is the Way to Go
As stated above, the small, often forgotten hood hinge parts are actually quite crucial for your 1947-1954 Chevy Truck. When it comes to such an important piece you want to be sure you have the best quality possible. Billet aluminum hood hinges are constructed from one piece of aluminum as opposed to individual pieces being cast together. One piece united is stronger than many pieces welded together. Aluminum also does not rust, it can corrode, but with a protective covering this corrosion can be delayed. Eddie Motorsports has over 24 years of experience manufacturing billet parts. They can be trusted with the quality production of your 1947-1954 Chevy Truck billet aluminum hood hinges. These hood hinges come in a clear anodized finish.
Why buy from Tuckers?
We have a knowledgeable support staff here to assist you in any way we can before, during, and after your purchase! We have decades of personal experience installing these products and we offer unlimited tech support for all verified purchases! When you call Tuckers, you'll talk to a fellow classic vehicle enthusiast, not just another order taker!