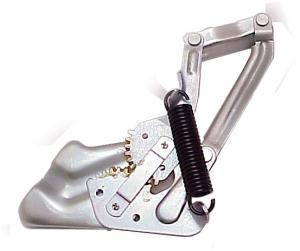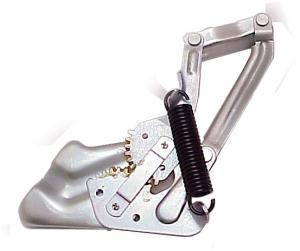 1955-1957 Hood Hinge with Spring Left Hand-GM Truck
1955 2nd-1957 Hood Hinge with Spring Left Hand - GM Truck Our new hood hinges are a perfect fit! these are a great reproduction of the original part. our hood hinges come complete with the hood hinge spring. (hinges do not include mounting hardware)
Over the years, hood hinges on any vehicle can take a beating. Considering that the hood of most vehicles is probably the heaviest and the bulkiest of the body panels on it. Hood hinges, like many moving parts of vehicle will begin to wear down as time passes. Since the hood hinges are not visible unless the hood is open, it can be easy to forget how much stress our truck's hinges are put through. High mileage vehicles and older trucks need to have new hinges if the current hinge has begun to wear down. The constant forces that are put onto a vehicles hinges cause metal fatigue. This can result in stiff and less than flexible hinges. This can be a very dangerous situation, especially if you're working under the hood. Loose hinges and worn out springs can also cause the hood of your vehicle to become misaligned or even bent.
1955 2nd - 1957 GM Truck Left Hand Hood Hinge With Spring
So whether you just need 1955 2nd -1957 GM Truck Left Hand Hood Hinge with Spring (fits the left hand driver's side) for your daily driver or you're doing a full restoration on your pickup, it is vital that you keep yourself and others safe with the proper hinges. GM trucks through 1955 (2nd) -1957, our new hood hinges are the perfect fit. They are a great reproduction for the original part and our hood hinges come complete with the hood hinge spring.
Not only is having new hood hinge with spring for your 1955 2nd-1957 GM truck important for your safety, but having a correctly fitting hinge allows for the hood of the vehicle to open and close smoothly, tighten up the gaps, and hood panel will sit more level on each side.
Installing Your Hood Hinge
After you purchase a 1955 2nd - 1957 GM Truck left hand hood hinge with spring from Tuckers Classic Auto Parts, you'll want to install it as soon as possible, so that you're GM Truck is running as smoothly as it can. The installation of hood hinges isn't complicated, but it's important to understand that the spring in a 1955 2nd -1957 GM Truck left hand hood hinge with spring, like a suspension spring, is under a lot of tension. Make sure to install your hinge either at home with someone there to help you with the weight of the hood or take it your local auto shop. Usually, shops will not charge much labor for a quick hood hinge installation.
At Tuckers Classic Auto Parts, our mission is to provide all of our customers with the feeling of the neighborhood hot rod shop and home town garage. We are able to do this by providing the information, experience, and products that are necessary to support a complete range of projects. We understand that truck enthusiasts nationwide expect and require quality products at a fair price that come with knowledgeable and experience pre and post purchase support.
Application: 1955-1957 Chevrolet and GMC 3100 Pickup, Drivers side
Don't forget to replace the right hand hood hinge and spring!
Why buy from Tuckers?
We have a knowledgeable support staff here to assist you in any way we can before, during, and after your purchase! We have decades of personal experience installing these products and we offer unlimited tech support for all verified purchases! When you call Tuckers, you'll talk to a fellow classic vehicle enthusiast, not just another order taker!