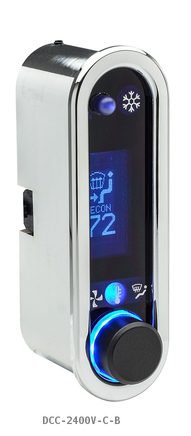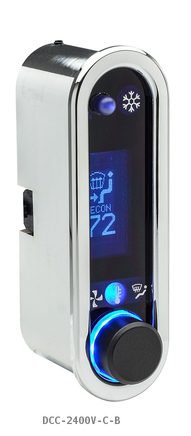 DCC Digital Climate Control-Vintage Air Gen IV-VFD3 Style-Vertical, Chrome, Blue Display
DCC Digital Climate Control - Vintage Air Gen IV - VFD3 Style
Vertical Position With Chrome Bezel Blue Display
Plug directly into the Vintage Air Gen IV A/C systems. Installation couldn't be simpler for new or retrofit applications with the offering a footprint of the same size as the Vintage Air controller and direct plug-in connections. Intuitive rotary encoder on the front face allows for simple operation, while the convenience of selecting your preferred cabin temperature makes this unit truly unique
Overall Dimensions: 4.2" x 1.3"
Cutout Dimensions: 3.97" x 1.07"
***Ships UPS Only***
Mounting Manual
Installation Manual
Why buy from Tuckers?
We have a knowledgeable support staff here to assist you in any way we can before, during, and after your purchase! We have decades of personal experience installing these products and we offer unlimited tech support for all verified purchases! When you call Tuckers, you'll talk to a fellow classic vehicle enthusiast, not just another order taker!