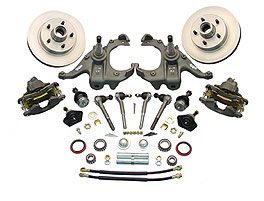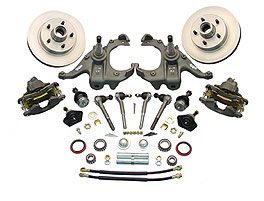 1963-1970 5lug Disc Brake Conversion Kit-GM Truck
Add disc brakes to your truck and upgrade your stock suspension with one of our disc brake upgrade wheel kits. Out upgrade kits use the more readily available, better designed 1973-87 ball joints and tie rod ends, Kits include 2-1/2" drop spindles, rotors, loaded calipers, bearings, seals, dust caps, spindle nuts, banjo bolts, upper and lower ball joints, inner and outer tie rod ends and tie rod adjustment sleeves. Kits are available in 5-lug (5 on 5) and 6-lug applications. May not work with factory drum brake wheels. Note: Specify hose size.
63'-70' 5 Lug Complete, with 2-1/2" Drop Spindals - 2-1/2" Drop
Spindle: Drop
Rotors: 12"
Caliper: 2.938"
Offset: 0
Min. Wheel Size: 15"
Backspacing: Factory
Why buy from Tuckers?
We have a knowledgeable support staff here to assist you in any way we can before, during, and after your purchase! We have decades of personal experience installing these products and we offer unlimited tech support for all verified purchases! When you call Tuckers, you'll talk to a fellow classic vehicle enthusiast, not just another order taker!